sidst opdateret 21-02-2006
Lamjura Water Supply Project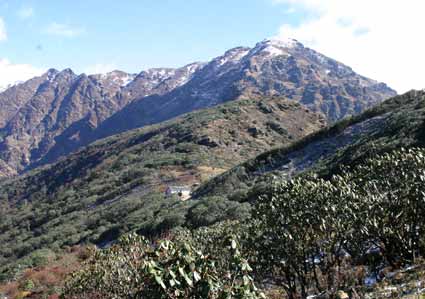 Lamjura Pass is an important traffical point on the road between Jiri – Junbesi – Namche. It is the high Pass on the way (3.660 m), where many porters, locals and tourists are passing.
2,5 km before the Pass are 3 lodges and in the very Pass 2 lodges accommodating the wayfarers with meals, refreshments and bed for the night.
As Lamjura is situated very high on the ridge there is no natural water source close to Lamjura. The lodges are taking the water from the stream twenty minutes below the village, carrying it up and filing it into individual water tanks in each lodge, by themselves or by employed porters.
In November 29, 2003 an application from Lamjura Water Supply Committee were send for HCDO applying for support to establish water supply. But due to lack of efficiency at HCDO, this report was not worked with before one year later. (see appendix by end of this Proposal).
In spring 2004 the New Lodge belonging to Sonam Sherpa close to the Pass bought a water pipe on 200 meters length to supply the lodge from a small stream on the North East side of the Pass. He bought this pipe with a Micro-loan from Himalayan Project.
The stream has a size equivalent to 800 mm tube and the inlet of the water pipe is placed in 14400 feet height. From here the water pipe is running for 2000m for the New Lodge in West side of the Pass which is in 13420 feet. Again from here a 10 years old water pipe is running 2500 meter for the main village of Lamjura, which is in the 12900 feet. The capacity of this pipe is low as only 20mm pipe is used.
In late Autumn, Winter, early Spring the temperature goes below freezing point leading to a risk of freeze blowing of the pipes and other equipment containing water. The villagers suppose that digging 30cm under surface with covering by natural insulation of grass and sticks will be enough to prevent freezing. The heights are measured by arm wrist altimeter, which means that the measurements are not precise. And the measure of the intake from the stream is measured from a previous location. Since then the source has shifted but estimated as the same altitude, but not accurate.
On 2nd November 2004 the three villagers Sonam Sherpa, Ngawang Samden Lama and Domi Sherpa applied Himalayan Project, by Chairman Kurt Lomborg, Denmark, to support establishing a more durable water supply of Lamjura. The project was discussed and it was decided that Kurt Lomborg should investigate for the project when returning for Kathmandu.